How Do I Hear The Movie?
Tune into the Radio station displayed on the movie screen for film sound, and your favorite Halloween tunes and tales from 6pm until showtime every night! Please remember to bring a portable FM radio if you choose not to use your car radio for sound. Phone radio apps will NOT work for listening to our film audio. Portable or car FM radios are the only way to go!
When Can I Leave?
You can leave any time during the evening. Please notify one of our staff members before you move your car unless the movie is over. Just be aware of your surroundings as you back out (many people sit in front of their cars), and exit to the right of the screen with your flashers on.
My Car Battery Died, Now What?
If you find that your car battery needs a jump, come to the concession stand and we'll dispatch a Jump Commando to accompany you to your vehicle and get it up and running again. Be aware that during busy times, we may ask you to wait until a crew member is available to assist you. Running your engine for a bit during the film will help keep your car battery charged.
Where Is The Haunted Halloween Drive In Located?
The Haunted Halloween Drive In Movie Experience is located at multiple Locations, please see below for directions to all locations:
Snipes Farm, 890 West Bridge Street, Morrisville, PA 19067
Please use the diagram below to get to the haunted halloween experience at Snipes Farm.

The Haunted Halloween Drive In Movie Experience is located at:
Charlann Farms, 586 Stony Hill Road, Yardley, PA 19067
Please use the diagram below to get to the haunted halloween experience at Charlann Farms.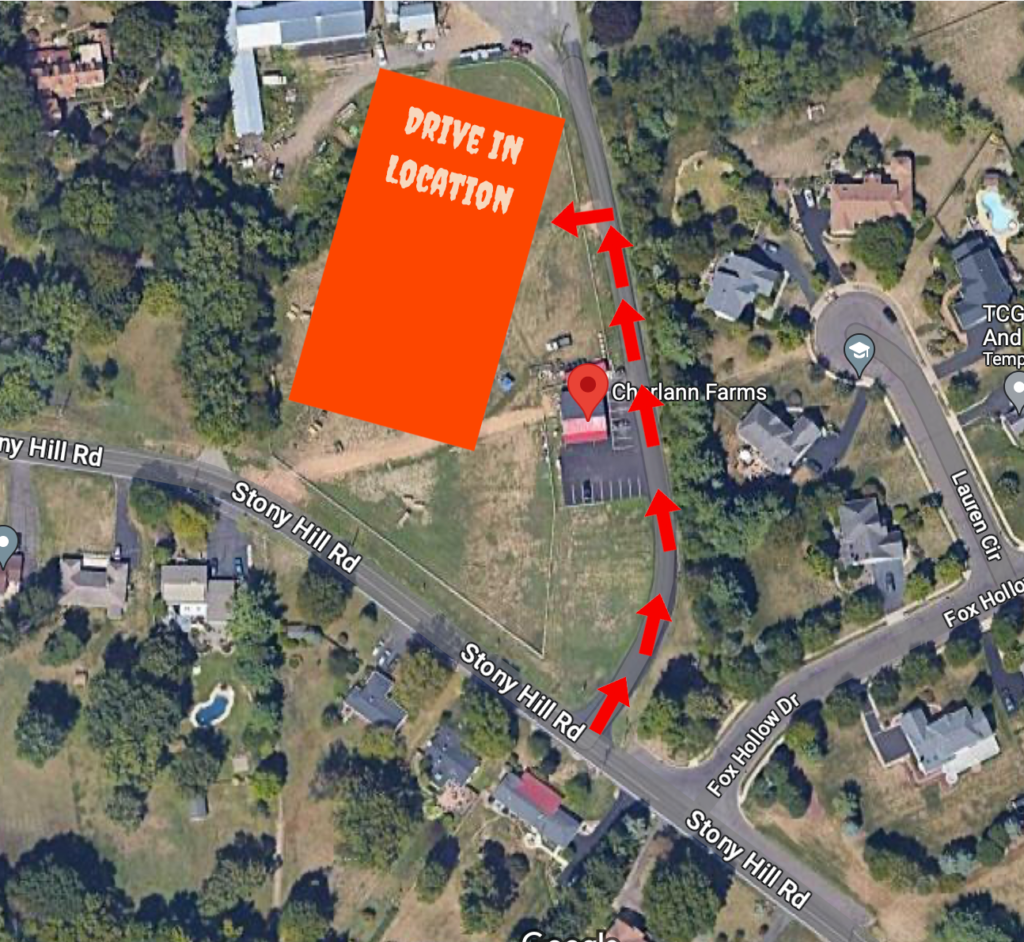 WEATHER – If we experience high winds, heavy rain or lightning, we must wait for the storm to pass to play or resume the movie. In the event we must cancel due to weather, all tickets will be fully refunded. Please check our website the day of your event for any cancellation notices.
LIGHT REFRESHMENTS – Guests may visit our RIPfreshments stand for boxed candy, soda, popcorn, chips and more. Please do not leave any trash behind.
SITTING OUTSIDE YOUR VEHICLE – You may sit in the hatch or in front of your vehicle, guests are encouraged to bring chairs and blankets to tailgate. If you choose to sit outside of your vehicle please bring a Portable FM Radio as there will not be any speakers. Please be respectful of your neighbors at all times.
ACTORS/PROPS – Guests are not allowed to touch any actors/props.
TICKET – Please have your ticket out and ready to be scanned once you arrive at the entrance.
RESTROOMS – Restrooms will be available during the event.
PARKING – Please follow all staff instructions for parking.
SUV / TRUCKS – All large/high SUVs and TRUCKS will be parked near the rear of the venue due to height. If you plan on having your hatch open you must tie it down to roof height.
VEHICLE LIGHTS – Please make sure your headlights/running lights are OFF during the movie showing. If you can not turn off your lights please bring something to cover them. Most times putting on your parking brake will turn off running lights. 
FAMILY MOVIES – Family movies do not have any live actors. 
PETS – No Pets are allowed.
SERVICE ANIMALS – All service animals are welcome.
QUESTIONS/CONCERNS – If you have any questions or concerns you may contact any of our staff on site.